Adopt a Car Today
Gilmore Car Museum is introducing an Adopt-A-Car program for the first time in museum history. Up for adoption are 20 cars from the museum's permanent collection.

The benefits of adoption are numerous and is a great way to support the museum. Several intangible benefits are reliving old memories, being an active part of the living history of the automobile, and "owning" a classic automobile. There is also the option of adoption in memory or honor of someone which can be a unique and personal gift.
Adoption may be done in person, by mail or by phone. Pricing levels are $300, $500, and $1,000 and will include the following benefits:
Correspondence packet:

Adoption certificate
Photo of your car
Eight (8) passes to visit Gilmore Car Museum

Signage displayed with car
Photo of vehicle for display
Be a part of Gilmore Car Museum
---
The 20 Cars Available for Adoption:
1927 Erskine 50
Adopted for Christopher Smolinski
1940 American Bantam
Adopted by Scott F. Allen
1947 DeSoto Suburban
Adopted by The Schaffer Family
1958 Edsel Pacer
Adopted in honor of Ashton Ludwig
---
1913 Michigan R
Adopted by Gordon R. Skinner and Christopher J. Zagors in memory of Alvin H. Rockwell, M.D. and his son Donald C. Rockwell, M.D.
1916 Packard Racer
Adopted by Al and Earl Higdon
1916 Franklin Sport Phaeton
1917 Mercer
1921 Roamer Speedster
1923 Checker Taxi
Adopted by Checker Car Club of America
1925 Locomobile Model 48
1925 Pierce-Arrow Sport Roadster
1930 Pierce-Arrow Cabriolet
1930 Packard Custom Eight
Adopted by Bruce R. Wiegand
1940 Packard Model 1807
---
1906 Columbia XLVII
1929 Duesenberg J-111
Adopted by David C. Kingsley, P.h.D in honor of Marcie, Peggy and Kathleen Kingsley
1948 Tucker '48
Adopted by Rand and Cindy Sage Winters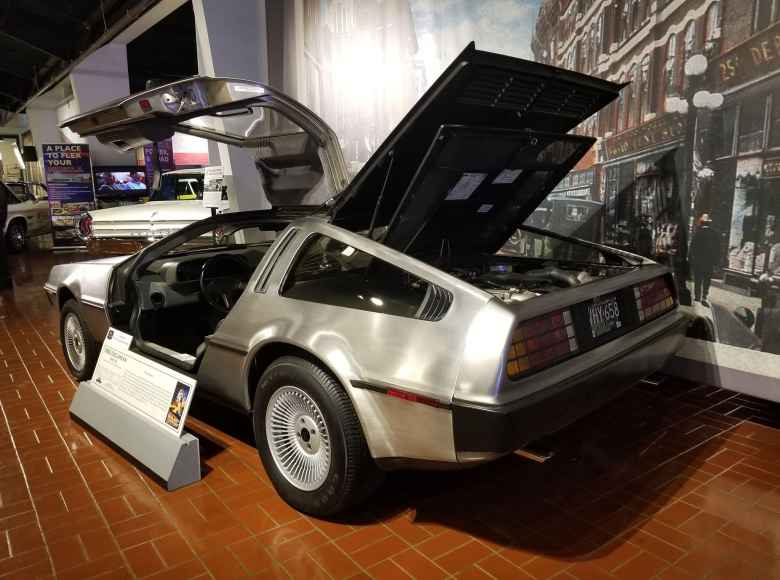 1982 DeLorean DMC-12
Adopted by Matt Turnquist and Family