Model T Driving Experience
Learn to Drive a Model T Ford…operated with 3 foot pedals (No Gas Pedal!), one hand lever, and two hand controls on the steering wheel!

Secure a seat behind the wheel of an AUTHENTIC Model T Ford, built between 1908 and 1927 — right out of the Museum's fleet of vintage vehicles — and drive 3 miles on paved roads within our historic campus with an experienced and enthusiastic instructor. This is truly a fun and memorable hands-on experience that's perfect for multi-generational family groups, couples, corporate team building, or anyone who wants to take a step back in time and learn how to drive, or get a refresher, in one of the 15 million "Tin Lizzies" built by the Ford Motor Company over 100 years ago.

ONLINE REGISTRATION ONLY – Registration is $125.00 per student + booking fee
Give the class as a gift - we've already made a certificate for you to use!
Our expert instructors will teach:
Use of spark and throttle control levers
Coordination of hand and foot controls
Proper shifting techniques
Stopping the vehicle
Correct use of the Neutral / Brake lever
Reversing the vehicle
Starting basics
PLUS, all students will receive:
Historian-guided tour in portions of the Museum Collection with lessons on Henry Ford and how the Model T changed the world.
Souvenir Model T booklet – produced exclusively for the Gilmore Car Museum.
Admission to the entire Historic Campus of the Gilmore Car Museum for the day.
Certificate of Completion suitable for framing.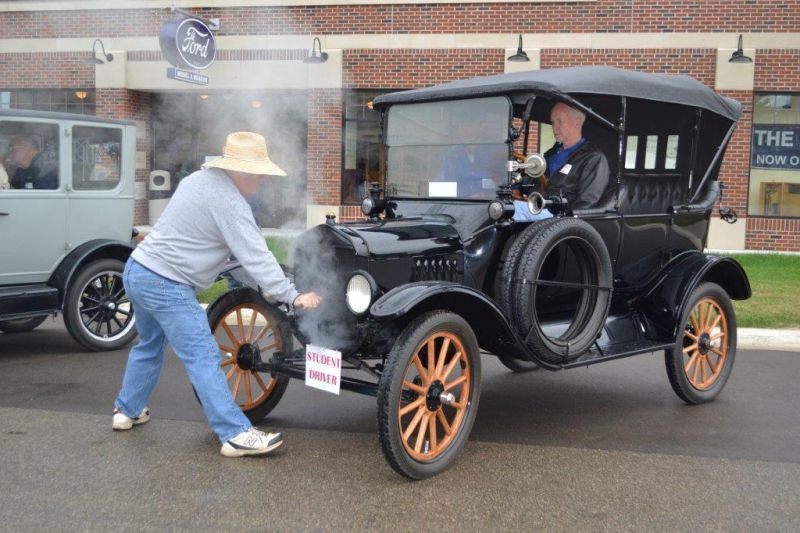 Some Important Notes:
Valid driver's license or learner's permit required.
Class size is limited so each student enjoys some one-on-one time with the instructors.
YES, we still drive in the rain just like they did in 1908, so dress for the weather!
Wear comfortable / practical shoes for walking and for driving. The cars are controlled with foot pedals that are situated very close to each other: SORRY NO flip flops, high heels, sandals or large work boots will be allowed.
If you have any requirements where you may need special assistance, please consider inviting a friend to register for the class with you.
Don't worry, we'll leave the crank starting of the cars to the instructors.
Prepare to have the experience of a lifetime!
Cancellation and Refund policy:
Because of the high demand for our Model T Driving School, student registration is non-refundable.
If necessary, you may however, make a one-time request to change to a different class date and/or session time. This request must be received at least 14 days prior to the original class date purchased by calling the Museum at (269) 671-5089 or sending an email to Info@Gilmorecarmuseum.org. These changes are based solely upon class space availability and, pending approval, will require an additional $25.00 administration fee.
* Please note that classes are NOT cancelled due to adverse weather conditions.
Each session is 3 hours long.

Yes, just like they did in the early 1900s!

Classes are done in a round robin style alternating between a half hour of driving and a half hour of non-driving engaging history segments.

Please wear practical comfortable shoes for walking and driving. We cannot allow anyone to drive that is wearing flip flops, sandals, high heels, or large boots.

Each Model T seats four. One instructor per three students.

Family and friends may take photos of you participating in the class. Due to available space and seating in the vehicles, they would not be permitted to ride along.

Family and friends would have to pay museum admission.